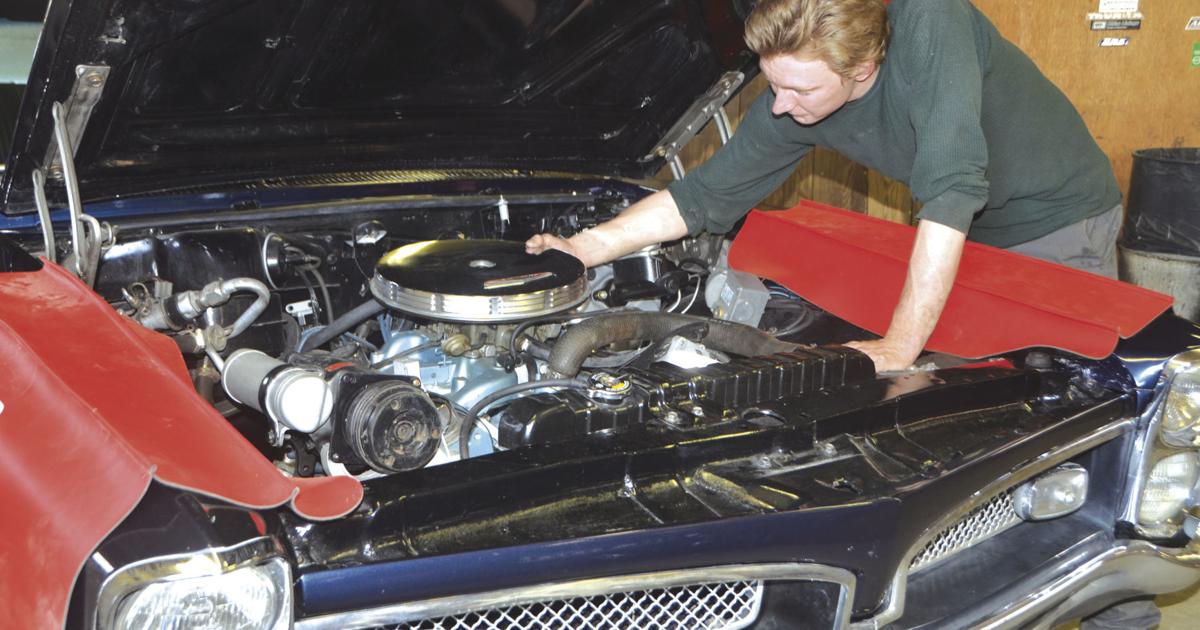 A father-son team works to restore old cars | Wyoming News
Gregory RC Hasman Rocket Miner Via Wyoming News Exchange

ROCK SPRINGS — Pat Hruska Jr. has found perhaps his biggest restoration project yet, a 1937 Cadillac hearse with a flathead V8 engine.
Hruska, the owner of Pat's Auto Service in Rock Springs, drove the vehicle in early August after five hours of trying to dig it out of the ground from where it had been acquired. His 22-year-old son, Tyler Hruska, spent the next day making it work.
The vehicle needs a lot of work, including dismantling and rebuilding its starter and replacing a missing grille and hood ornament. The ornament was purchased on eBay for $800, Pat Jr added.
Pat Jr. said he also plans to remove the rails and wood inside the back and turn it into a delivery panel.
If a potential buyer wants to hand them over, he will, he said.
Pat Jr. said he hopes to complete the restoration within a year or two.
"If we can restore that, we can restore everything," he said.
His dreams, however, are bigger than just working on a Cadillac.
Visiting Pat's Auto Service is like attending a classic car show. Parked outside the main entrance are a beige 1950 Nash Ambassador Super, a black 1951 Nash Statesman Custom and a white 1965 Ford Custom with 40,000 miles on it. To the side of the shop are 1977 and 1979 Corvettes and a 1967 Pontiac GTO waiting to be worked on.
The store, formerly Downtown Auto Body, is next to Rizzi's Automotive and Towing on Ninth Street. The businesses are located on a Lincoln Highway and the former alignment of US Highway 30.
Park and get out of the vehicle, then open the door to Pat's. Soak up the smells of greased STP and Marvel Mystery oil cans and find California license plates from the 1960s and 1970s on the right. Turn left and there's a shelf full of automotive books and magazines and a license plate that says "Mechanic on Duty, Open 24/7".
Go down a few meters, turn right, enter the first part of the shop and discover a 1979 Pontiac GTO which is covered and has several months of work ahead of it before being ready for the outside world.
Inside the next room is the 1937 Cadillac, and next door is a blue 1967 Pontiac GTO 455 4-speed with power steering and power brakes that Tyler has fully restored.
The best part of seeing a finished product is "seeing your hard work and seeing it work," said Pat Jr..
Also in the room is a light blue 1978 Corvette Z-28 that Pat Jr. worked on. It won first place at the Rods & Rails Car Show 2016.
The Hruskas poured their sweat and tears into the vehicles. Pat Jr. has four sons, but Tyler helps him with the business.
"I'm just lucky my son likes to do this," Pat Jr. said. "We're partners. It's just too hard to find good help.
Tyler said he loved playing with cars since he was a kid.
"He slept with his Hot Wheels," Pat Jr. said.
The business is family owned, as Pat Jr. is a second generation owner. His father, Pat Hruska Sr., owned a store for decades in another part of Rock Springs, also called Pat's Auto Services.
Pat Sr. started working on cars when he attended Rock Springs High School in the 1950s. He said he would do work for his classmates.
He opened his shop in 1961 and worked on cars until 1997. Among the range of vehicles restored by Pat Sr. are a 1969 Chevy Camero, a 1933 Rolls Royce and a 1963 Studebaker Avanti.
Pat Sr. said that in retirement he enjoys talking to his son and grandson about automobiles.
"I like to give advice and sometimes I learn something," said Pat Sr.
Pat Jr. said his dad talks about "just anything that pretty much upsets us".
"Between the three of us, we manage to understand," he added.
An average restoration project can take about six months, depending on what the client wants and if they have the money, he said.
When asked what was the most difficult restoration project he had worked on, he replied: "There are a lot of difficult ones.
"We just approach them when they come," added Pat Jr. "Not many places in town do a full restoration. It takes time and money. »
Pat Jr. and his son also repair cars, domestic and foreign.
It can take about a day or two to fix, he said.
When asked what the biggest difference between working on newer vehicles and older vehicles is, Pat Jr. said it was how vehicles were diagnosed. Newer vehicles have computer diagnostic scanners that determine what is wrong with them.
However, Pat Jr.'s long-term dream is to one day only work on restoration projects. He said he would like to operate from a large warehouse where he could restore the cars and then "return" them.
"If I had a choice, I would take over the K-Mart building," he said. "You really have to bank it to do that."
He wants people to be able to see the work he and Tyler are doing so they can attract business from everywhere.
Ideally, Pat Jr. would like to hire four or five guys on a project, which would allow his shop to restore a car in less time.
"If they're doing a good job, I'll take care of them," Pat Jr. said. "You take care of your employees, they'll take care of you. They will be proud of their work.