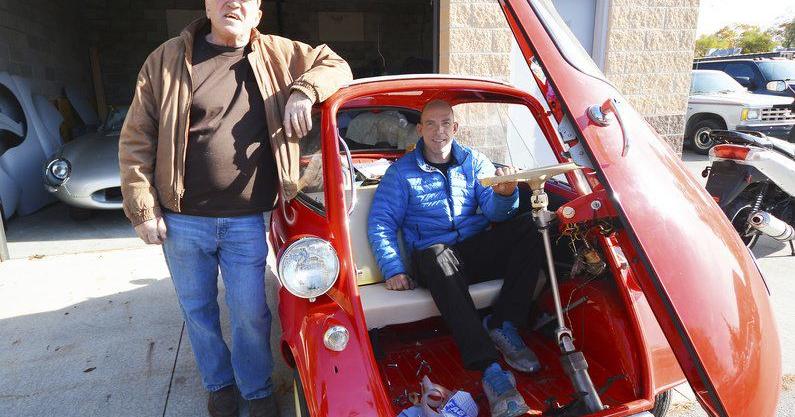 Garfield Auto: A Father-Son Team Turns Old Cars Into New | Business
TRAVERSE CITY – Garfield Auto Service Center performs the usual oil changes, brake service and engine repairs that most garages offer. But it also launches four or five classic car restorations each year, vehicles so pristine they look like they've just come out of the factory.
Jeff Koch, 47, and his father, Jack Koch, 73, are proud of the quality of their work.
They restored a 1957 BMW Isetta which is currently on display at the BMW Group headquarters in Washington DC. A classic Porsche they restored now graces an architect's office in Berlin, Germany. They also restored a 1917 LaFrance fire truck and a Packard, among other vehicles. Currently in their garage there is another Isetta nearing completion, a 1967 Jaguar E-Type 12 cylinder being restored and an MGA in pieces.
The duo perform their restoration magic in the building at 725 S. Garfield Ave.
Jeff actually does most of the work these days, with his employees. Jack, although retired, still stops by the store a few days a month during the summer. He left last week to spend the winter in Florida.
Restoration work began as a way for the Kochs to occupy themselves and their employees during periods of lull in repair activity.
"When you're one of the repair shops, you're going to have time off," Jack said.
Garfield Auto employs three mechanics and two coachbuilders.
Jack has a long history as a local entrepreneur. He owned and operated "Captain Jack's" bar near the Holiday Inn in Traverse City, now the West Bay Beach Hotel. He sold dump trucks and school buses for a local car dealership.
"I've always heard, 'If one job doesn't work, you get two jobs,'" Jack said.
About 20 years ago, he purchased the Meinke Muffler franchise operating at 725 S. Garfield Ave. A few years later, he quit the franchise and set up as an independent.
His son, Jeff, went through his own career change. He taught social studies and history in Flagstaff, Arizona for 12 years. Then he bounced back to Traverse City.
"It was the water, to be honest," Jeff said. "I thought mountains could replace water, but they couldn't."
It was years ago. Since then Jack has mostly retired and Jeff now runs Garfield Auto.
Jeff took an interest in restoring BMW motorcycles from the 1930s and 1940s. Last week he removed fabric covering the beautifully refurbished frame of a 1936 BMW cycle he had purchased in Europe and returned in the USA. The motorcycle's engine, he said, has been in Colorado for two years as an engine expert searches there for parts.
Motorcycle work led to car restorations.
"It started with the Isettas," Jack said.
BMW made Isettas in the post-war years when petrol was expensive and European budgets were thin. The Isetta is a small car bubble that can accommodate two people. The only door is the entire front of the car. The engine is small, much like a motorcycle engine. The vehicle is a cross between a motorcycle and a full-size car, Jack said. The Kochs have always tended to focus their restoration projects on the small side.
"Mostly little European stuff," Jack said.
But Jeff is currently finishing up a larger project – a classic Toyota Land Cruiser. He drove the vehicle all last summer without the bolt-on hardtop.
"I have three kids. I can cram everyone in there," he said.
When the Land Cruiser is finished, he plans to sell it, even though he calls it his dream vehicle. He drove a beat-up Land Cruiser when he was young and has loved the classic model ever since. The example he is now finishing is what he considers close to perfection. But business is business, and when it's done, it will go on sale.
A few feet away, on the other side of the garage, a late-model sedan needed routine maintenance. Old and new vehicles coexist harmoniously in the store.
Daily mechanical work still provides the meat and potatoes for Garfield Auto's business. But restorations provide a steady revenue stream, as well as valuable word-of-mouth advertising.
Jeff doesn't see restoration work taking precedence over day-to-day mechanical work. But his eyes light up when he talks about the Land Cruiser, the classic BMW motorcycle, or the other projects he and his dad have already done.
He and his father both enjoy bringing classic cars back to life. But they both know the value of routine, repeat business.
"It's easier to keep the customers you have," Jack said, "rather than going after new ones."