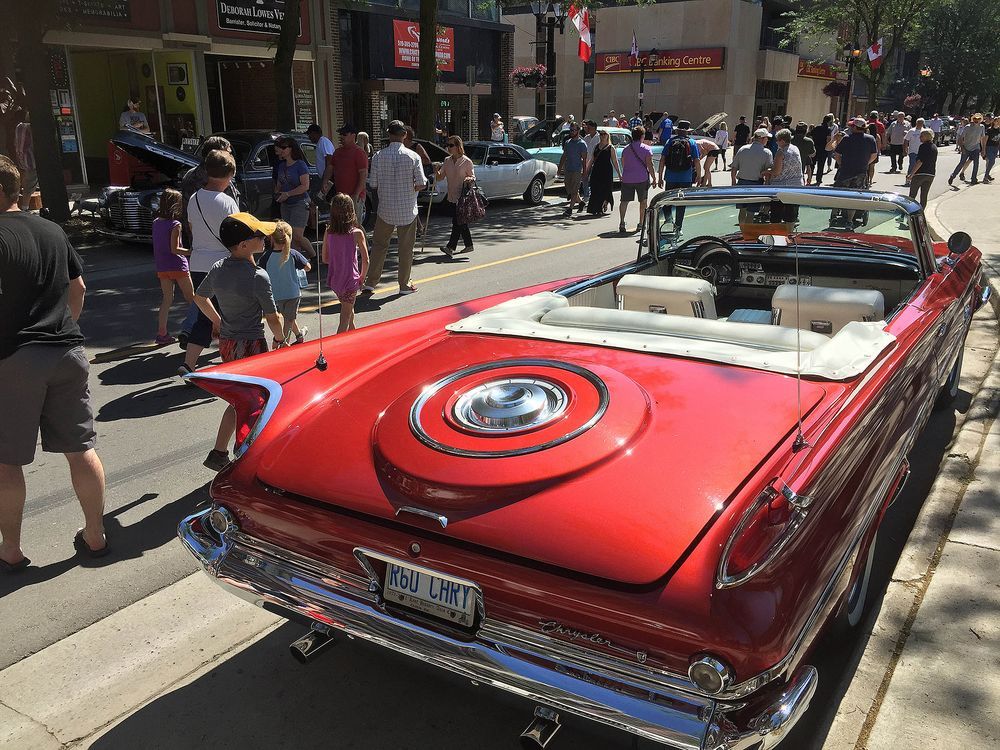 GET READY FOR THE ROAR: Classic Car Shows Return to Chatham-Kent
Content of the article
Classic vehicle enthusiasts can fire up their engines as this spring and summer will mark the return of many classic car shows to Chatham-Kent after a two-year hiatus.
Content of the article
Large events that are usually held every year have been canceled in 2020 and 2021, although some organizers have adapted to virtual or smaller gatherings. This year, dates have already been set for people to see classic cars in person in most areas of the municipality.
The season kicks off with RetroFest on May 27 and 28 in downtown Chatham and events will follow in areas including Wallaceburg, Bothwell, Blenheim, Merlin and Ridgetown.
The Old Autos Bothwell Car Show will be held on August 6, with a car swap meeting on August 5 and 6 at Victoria Park in Bothwell. Lisa Downie, event chair and member of the Optimist Club of Bothwell and District, said everyone is "really confident" the event will continue this year.
She said the public had shown interest in attending the event, which usually attracts over 1,000 cars.
"People are cheering me on and there are phone calls to some of the other members asking when it's all going to be," Downie said.
The event will be essentially the same as 2019, Downie said, although there will only be around 250 vendors compared to the usual 300.
In addition to the car show and the exchange meeting, the event will include a parade on August 5 at 7 p.m.
"We just hope we have a good turnout and everyone is having fun and we'll go from there," Downie said.
The Bothwell show usually lands the same weekend as the Wallaceburg Antique Motor and Boat Outing. This year, however, it worked out so that WAMBO could be held the following weekend of August 12-14.
Content of the article
Organizers of both events said they expected a bigger turnout as a result.
"It's good for Bothwell too, as much as it's good for us," said WAMBO chairman Bill Wolsing.
He said he was "100% confident" the event will take place in August. Wallaceburg has missed the event the past two summers, but organizers held another event over two days in October.
Wolsing said people can expect this year's event to be a return to normal.
"WAMBO cannot get bigger," he said. "We are part of the city center. We are losing our pedestrian bridge for this season so there won't be much on the south side, but everything else is up for grabs.
The event typically brings together between 225 and 250 cars and about 40 boats, Wolsing said.
He said he was looking forward to seeing "smiling faces and good weather.
"We've had our regular meetings and discussed plans for the event and we're at full speed."
EVENTS AT THE CHATHAM-KENT CLASSIC CAR SHOW
May 27-28 – RetroFest, downtown Chatham
June 12 – Erieau Boulevard of Dreams
June 24-25 – Blenheim Classics Autoshow & Cruise Night, Blenheim Town Center
July 9 – Wildwood by the Lake Car & Bike Show, 12443 Rose Beach Line, Morpeth
July 10 – Merlin Legion Vintage Cars, Trucks, Motorcycles and Tractors Show
July 10 – Ridgetown Rotary Vintage Car Show, Watson Grove Park, Ridgetown
July 16 – Mitchell's Bay Vintage Cars, Trucks, Tractors and Bikes Show
5-6 August – Bothwell Old Autos Motor Show, Victoria Park, Bothwell
August 12-14 – Wallaceburg Boat and Antique Motor Tour, Downtown Wallaceburg