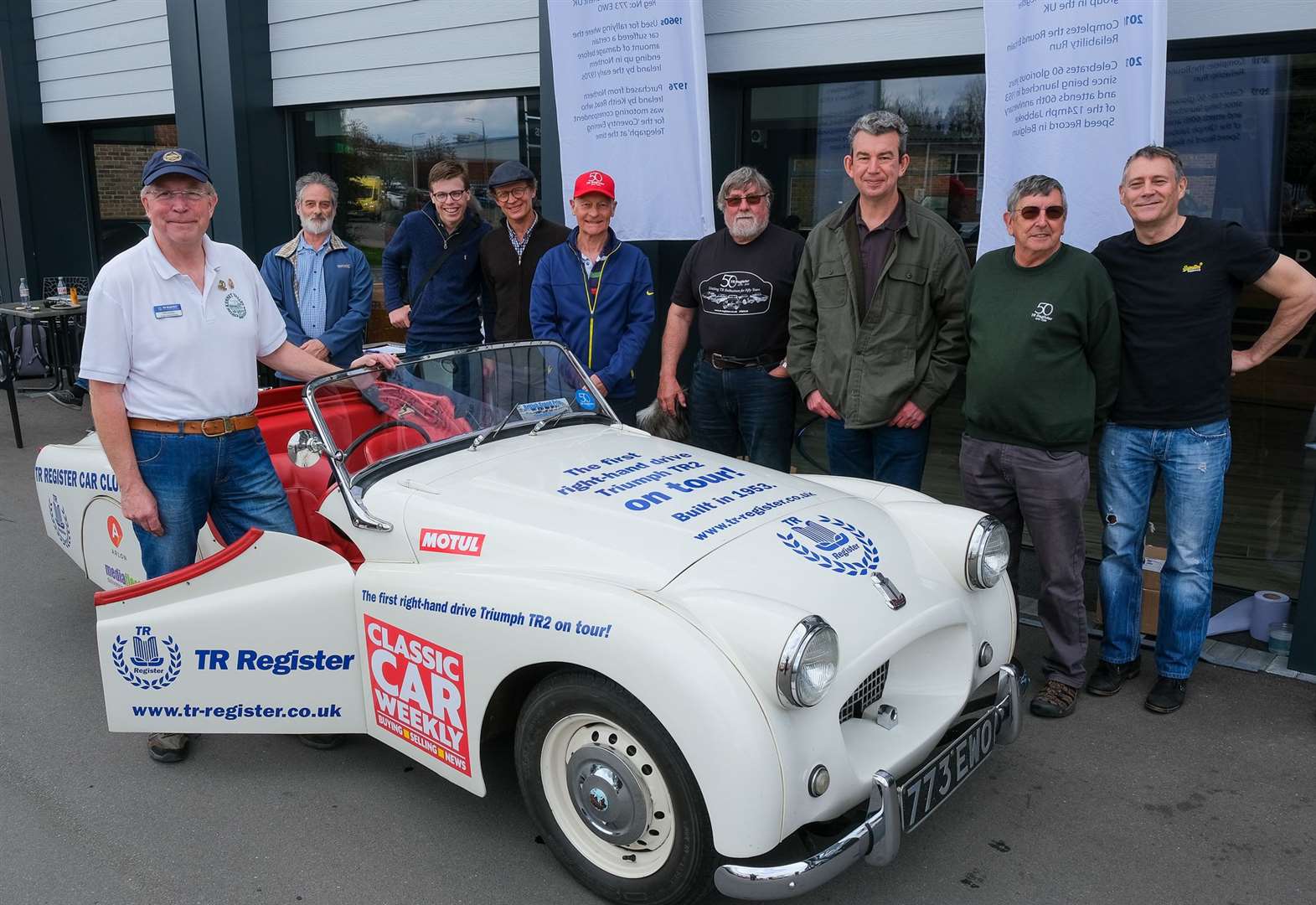 The classic car TS2, the first TR sports car on the right, visits Newbury
Classic car enthusiasts had a day to remember when the first original RHD Triumph TR sports car appeared in Newbury as part of a cross country tour.
TS2 is approximately 70 years old and is owned by members of the TR Register, meticulously restored and maintained by them.
To celebrate the 50th anniversary of the TR Register – which was founded in 1970 by Triumph sports car enthusiasts – TS2 is taking a Round Britain Run in the hands of over 50 local TR groups.
And on April 18 and 19, the car traveled to Newbury, giving vintage car enthusiasts the opportunity to examine and drive it.
Michael Field of Kennet Valley TR Register said: "It went really well.
"It was good publicity both for the TR Registry – the club to which all TR classic car owners belong – and to widen the outlet for people who visit the site."
Mr. Field explained how the TS2 was one of two pre-production Triumph TRs.
TS1 was left-hand drive, designed to be promoted across the Atlantic and now lives in Canada, while TS2 was the first right-hand drive for the UK market.
It was hand-built in Banner Lane, Coventry, in July 1953, before the production line went into service, and promoted the launch of the TR2 at the Dublin Motor Show in 1953.
It spent much of its youth in private hands, registered in Ireland and sold to a certain Dr Brendan O'Hara, being used extensively in rallying and club motorsport.
It then became the property of automotive journalist Keith Read, now in poor condition, who eventually donated it to the TR Register.
The club launched a fundraiser for its restoration in the late 1990s and revived the car in 2000 at the NEC Classic Motor Show.
Much of the car is now slightly different from the actual pre-production model as many had to be redone where items had rotted or were beyond repair.
TS2's greatest achievements include the 2010 Round Britain Reliability Run, where it covered 2,000 miles in 48 hours non-stop, and the show-winning car at Silverstone Classic in 2021.
---
---